PRESS
---
Home
Intro / Basics
Reviews
Comments
Rules / Hints
Educational Products
Gallery
Shows
Press
FAQ
Links
Order
Contact
---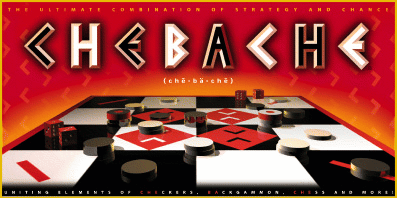 Press coverage of Chebache follows:

---
National Press:

The Christian Science Monitor, 15 Mar. 2000, by Guillaume Debré:
Inventing a board game is more than a roll of the dice.

Chicago Tribune, Feb. 4, 1999, by Lynn Voedisch:
Ignored by gamemakers, inventors turn to Web.


---

Local (to Ithaca, NY, USA) Press:

The Ithaca Child, Spring 1999 issue, pp. 16-17, 48, by Rachel Dickenson :
Game of Chance.

Ithaca Times 16 Sept. 1999, by Gene Ira Katz:
Make Your Move: Artist's board game combines best of the rest.


---
Chebache
®
is a registered trademark of Pardee Games.
This website & all contents Copyright © 1997-2014 Pardee Games. All rights reserved.
Chebache is protected by U.S. Patent #'s 5,791,650; 6,062,562; D384,376.
Updated Sat. Jan. 16, 17:04:30, 2014; Q's & comments: info@chebache.net