Chebache: Very Deep Backgammon
"...it's terrific fun, even exciting to play. ...I strongly recommend Chebache. I love this elegant game and I think you will too."
~ by Mitch Thomashow for The Games Cafe (now The Games Journal)
Chebache - New Strategy Game
"If you love strategy games such as Checkers, Backgammon and Chess, you're sure to love Chebache. ...The strategies are deep, the
movement choices are plenty and the flow of the game is ever-changing. ...this is a great, challenging and fun game. It takes elements of the classics to a whole new level."
~ Kelly Tompkins: Board Games Editor for Bellaonline
Please visit our Reviews page for more.

Learn The Basics and Learn To Play

Now you can also...
Play Chebache Online at HIGHERGAMES!
HigherGames is a new strategy game site now offering
FREE MEMBERSHIP


Flash Player 7 required
(Quick FREE download)
Join Now! ...or try our Guest Pass
You may also download an offline version and practice against yourself.
Chebache Download
(Windows Only)
Download Now Click Below (Windows only)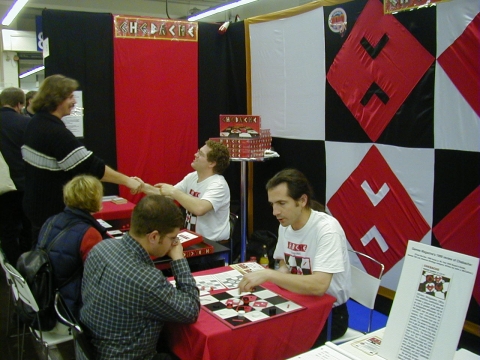 Featured Pic: Exhibit at Spiel 2000 in Essen, Germany
Kirk and Andy hard at play, teaching Chebache game strategy.
Our site map:
Intro / Basics The Basics of Chebache
Reviews of Chebache by independent reviewers
Educational benefits of Chebache
Shows Pardee Games has attended
Press Coverage
Order Chebache!
Gallery of photos - Game Fairs, Trade Shows, etc.
FAQ: Frequently Asked Questions
Comments from Chebache fans & players
Contact Us! Ask questions, offer your comments!
Products: What you get when ordering Chebache
Links of game sites and other interests
<!LI> <!A HREF="about.html" TARGET="xtrapage"><!/A> <!/LI>
---
Chebache ® is a registered trademark of Pardee Games. This website & all contents Copyright © 1997-2014 Pardee Games. All rights reserved.
Chebache is protected by U.S. Patent #'s 5,791,650; 6,062,562; D384,376.
The Games 100 Logo is used courtesy of Games Magazine.